This week I am saying So What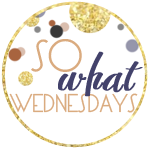 that we are going to get some rain finally.
I am not one to complain typically but this winter is so dry and so summer feeling that I am dreading summer 100%. Not to mention I am not even close to summer body. Therefore the 3+ inches of rain we are predicted to get this weekend will be welcomed with open arms and I am planning on just staying home & cleaning. Maybe we can catch a few movies or watch a few we own that we haven't seen yet like Turbo.
The floors are done but I haven't moved back into my room 100% because the hubby is gone this week. When he returns we shall move back in and get my life back on track just in time for March 1st.
That is my hump day. Cant wait for March to get here & refocus & chase my dreams