Happy Hump Day!
Welcome to another edition of So What Wednesday
This week I am saying So What to not blogging. It's not that I don't have anything to blog about because it was super bowl weekend, i have monthly goals, I am changing some things in my life but honestly it's because I have been super busy. We got home late Sunday from my aunt's house & my work schedule changed. I used to have Monday's off but now I am working Mondays, Tuesday & Thursdays.
(Boo - I hoenstly can't wait to stop working Mondays again or just not work at all plus I work at home almost full time if not more & still have my family & hubby time)
I am hoping to start scheduling post a bit more & maybe even learning how to use my macbook pro laptop since it just sits, I don't even know the last time I turned it on. (oopps)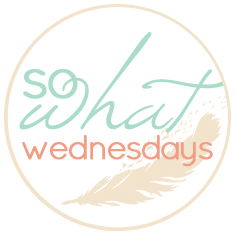 What are you saying So What to this week?