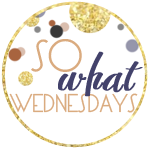 Today is HUMP DAY....
So What
...Today starts my weekend & I am officially enjoying EVERY second of it.
...that my brother flew into town last night
...even though it is my weekend I will also be working still here & there
...Come Friday Morning I just might put up Christmas Decorations
...I am planning on spending my hump day catching up on things such as emails & other fun errands
...Kay has a birthday coming up on Friday :)
...that I skipped blogging yesterday as I was busy with work
...I took this week off the gym because I have been stressed and I really need to reevaluate my time
...that I am not really excited about Christmas shopping this year. Can someone else do it for me?
...I really want to see Hunger Games in the luxury theater. Can someone please tell my husband?
...Yesterday when I left work, my aunt made a hint about pumpkin pie so now I am debating on if I want to make it or just buy it.
...I am truly over school. Gimme my C & let me go my way!
...that I kinda feel weird that I am not going to counseling this week. I love my counselor she is amazing
...That I am ready to start baking again & get my life back on track
...that I am ready to lose this weight & keep it off!
...that I love Landshark beer
...that I am daydreaming about going back to Grand Turk (I know I need to finish my recap)
...I am thankful for my family & friends including all of you who read my blog & leave me comments.