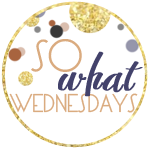 It's that time again in the week...
Guess what day it is.................
This week I am saying So What If ...
-I am not having the best month and would be perfectly okay with waking up in December
-I honestly have lost all motivation to work. I have so much to do but lost all the motivation to do it.
-my house will never be pinterest ready or pinterest projects everywhere. I wish!
-I might be getting a new car.
-I started my Christmas wish list a few weeks ago but the odds of me getting my items are very small
-I might of already started decorated for Christmas
-I am addicted to scentsy
-I am excited for a break next week to just sleep in and hang around the house
-I am not excited to go shopping anymore. Maybe I am finally okay with everything in my closet
-I have been in bed every night besides the night I was at school by 8pm. Tonight will be included
-I am so not tech savy but I really wish I was. I would love to make some fun things on the computer.
What are you saying

So What

to this week?