Dear Alex,
I am so thankful this week is over & we can have a nice relaxing weekend. Maybe if we don't make a drive up to the mountains, maybe we can go to bass pro shop to get your backpack.. Maybe? but massages are happening! I love you.
Guess what? We survived our

FIRST

valentine's day married!
Dear Weekend,
I am so excited for you!! I just made appointments for couple massage which is well overdue!! I hope to accomplish many things that need to be done before Monday, including homework!
Dear weight loss,
I am a bit disappointed because I have been working so hard the last few weeks to see the scale move downward but no such thing. I am hovering right around the end of the 130's but I would love to be back in the 120's PLEASE help me with this!! I want to lose 20 lbs before our cruise.
Dear Honeymoon Cruise,
You are 61 days away! I believe I can make it through this until we meet. This will be our FIRST time cursing so please be memorable in a good way! I can't wait to lay out on the deck in a swimsuit & drinks in hand!!
Dear Self,
Stop beating yourself up over things. It will happen just believe in yourself. Relax & keep doing what you are doing, your amazing at it!!! Remember hard work pays off!
Dear Work,
I really wish I didn't have so much of you to do! I just want to shop & I can't because I told myself I would pay things off before I shopped & wear all the clothes in the closet with tags still on it! I just wish you did yourself so I wouldn't be so stressed & wouldn't work weekends.
Dear kiddos at Preschool,
The more I see you kids & the more you all hug me & love on me the more I love you all! I can't believe I can honestly say I am a preschool teacher now. I never thought I would say that. I hope I can touch your life in a positive way to prepare you for this world!
Dear Hello,
I really want a gray or red sweatshirt. If you magically find your way into my home I wouldn't be disappointed!
Dear Readers,
Thank you so much for your sweet sweet comments on this post! It truly is heart warming knowing so many of you support me in this new journey I am trying to over come. I love all your comments & try my best to write back!! Please check to make sure you are not a no-reply blogger - sometimes if you are I will let you know through twitter or your own blog! Thank you again in all your support & love!!!
Hope you all have a fabulous weekend!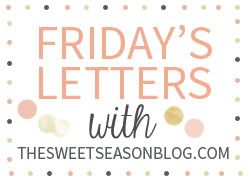 ps. Congratulations to Ashley on their new bundle of joy
This weeks post: